Ferns do not form flowers, which would seem to put them at a disadvantage when it comes to decorating a garden or room. Despite their less showy nature, however, there are many ornamental ferns that provide a delicate beauty that can add a stylish touch to any border or bookcase. So, what are the prettiest ferns?
The ferns most prized for their beauty are the Japanese painted ferns, which come in a number of eye-catching varieties, but many other species have their own elegant charm. Maidenhair ferns, lady ferns and claw ferns are renowned for the delicate beauty of their foliage, and the subtle bronze of the copper shield and sunset ferns can provide a pleasant contrast to the rich greens of more traditional ferns. 
Beauty is in the eye of the beholder, of course, but many growers and botanists have worked hard to selectively cross fern species to discover new variants that add structure and color to the classic form of the commoner ferns. Despite their lack of flowers, these ornamental ferns bring a refined beauty to the home or garden.
Japanese painted fern varieties
The Japanese painted ferns are in a class of their own for eye-catching beauty. Being delicate, intricate, colorful and patterned, these ferns are a favorite for adding an eye-catching element to borders and underplanting. Delicate gray-green fronds are tinged with silver, and set against a dark-red midrib (or rachis). These colors blend gracefully together – looking for all the world as though the fronds truly have been painted.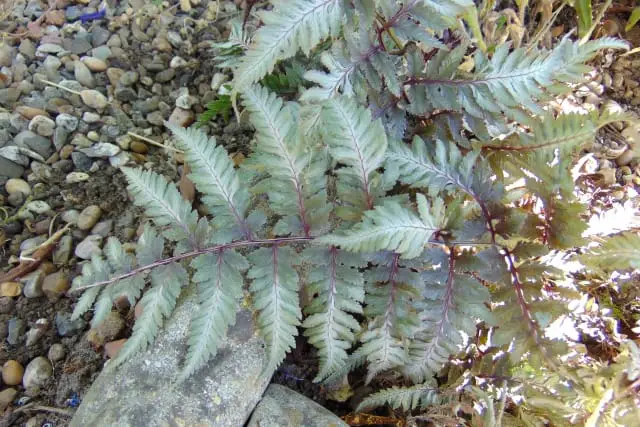 Japanese painted fern
Athyrium niponicum
Deciduous
Prefers partial shade
Height: up to 0.5 m
Soil: acid, neutral or alkaline. Moist, well-drained.
As the name suggests, Athyrium niponicum species originate from east Asia, but grow well all around the world, and in most climates. They require partial or full shade, moist but well-drained soil, and are sensitive to direct sun. Despite their hardiness, the Japanese painted ferns have a reputation for sometimes being difficult to establish and prone to dying back. Most likely, sun or drought are to blame – so adding overhead shade, re-positioning the plant, or more frequent watering should solve the problem. 
As befits a widely admired plant, the Japanese painted fern has won many awards, including the Royal Horticultural society's Award of Garden Merit. This admiration has also led to the generation of many varieties and cultivars through selective breeding. Some of the best known have appropriately pretty names: 'Burgandy Lace', 'Ghost', 'Silver falls', 'Ursula's red', and the not-so-delicate 'Godzilla'. 
The Chicago Botanic Garden ran a trial of a large number of painted ferns and lady ferns in 2015, assessing them for foliage color, growth form, height and width. The results are available for download from the Chicago Botanic website, and provide all the details you could want to know about which varieties thrive well under test conditions. 
The most colorful ferns
Although the Japanese painted fern wins most of the awards, there are many other decorative ferns that have their own unique beauty. 
The most strikingly colorful fern is probably the copper shield fern (Dryopteris erythrosora). These specimens can vary in coloration from a subtle coppery border to the fronds in spring, to a full red-brown cultivar 'Brilliance' that is as dazzling as its name suggests.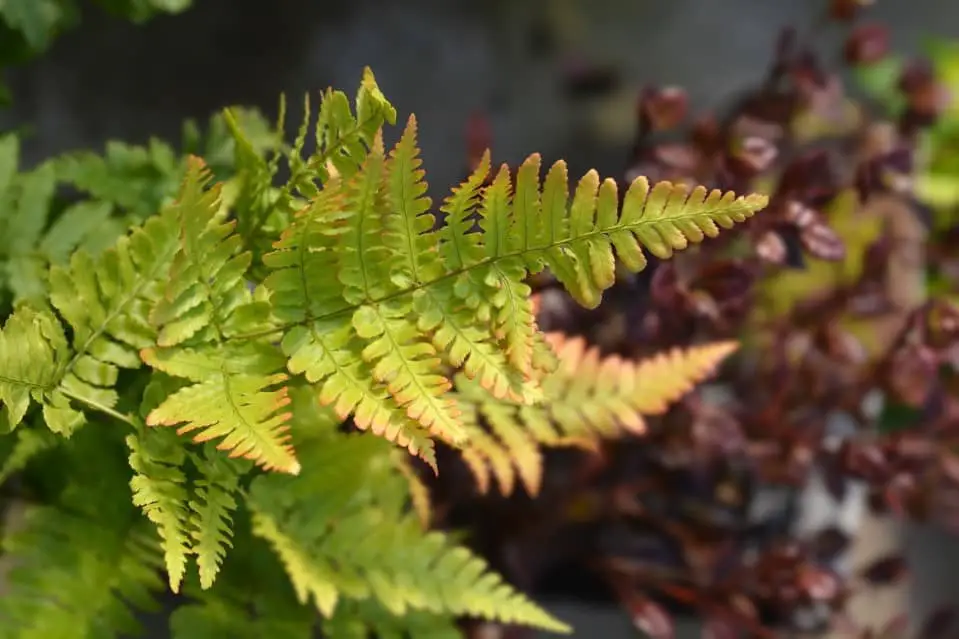 Autumn fern
Dryopteris erythrosora
Semi-evergreen
Full or partial shade, and full sun
Height: up to 1 m
Soil: tolerant of most pH and drainage conditions.
Another colorful beauty is the sunset fern (Dryopteris lepidopoda), which has a salmon pink or orange tinge to the new fronds in spring, which slowly turn bronze before fading to a dark green. This provides a beautiful seasonal display.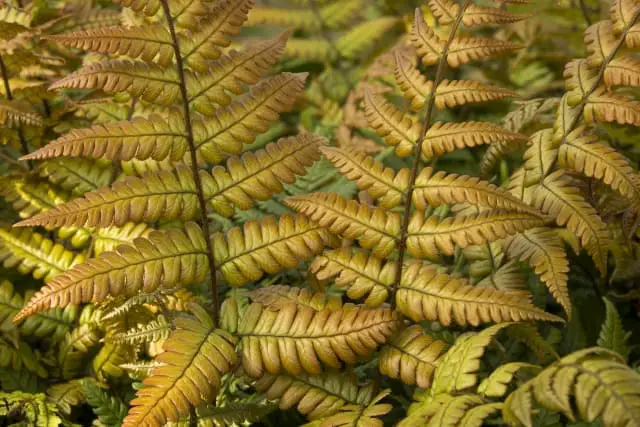 Sunset fern
Dryopteris lepidopoda
Semi-evergreen
Full or partial shade
Height: up to 1 m
Soil: acid or neutral. Moist, well-drained.
The Royal fern, (Osmunda regalis) also has a reputation for beauty, and is sometimes called "the flowering fern" because of the golden brown sporangia (clusters of spores) that form decorative tassels which resemble flowers.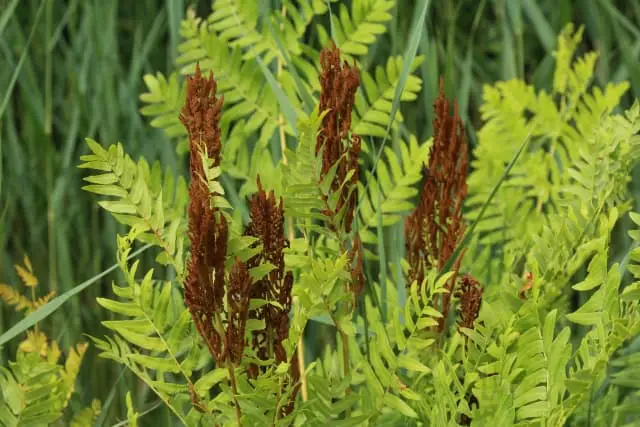 Royal fern
Osmunda regalis
Deciduous
Full or partial shade, and full sun
Height: up to 2.5 m
Soil: acid, neutral or alkaline. Moist, poor drainage tolerated.
This fern also has a variety 'Purpurascens', which has purple fronds during early growth in the spring. As the variety is also deciduous, it delivers a complex palette of changing colors over the course of the year – passing from purple, through green, to golden brown as the year progresses.
Similarly, many other deciduous ferns will give a flash of autumn color as their fronds die back at the end of the growing season. Christmas ferns, cinnamon fern, and royal fern are good examples of deciduous varieties that provide a autumnal show to see out the year. 
Another fern with striking coloration is the variegated Pteris or brake fern. This family of ferns has a wide variety of frond shapes and sizes, with many that have beautifully patterned variegated fronds, that give a pleasant dappled contrast to the simple plain green of classic ferns.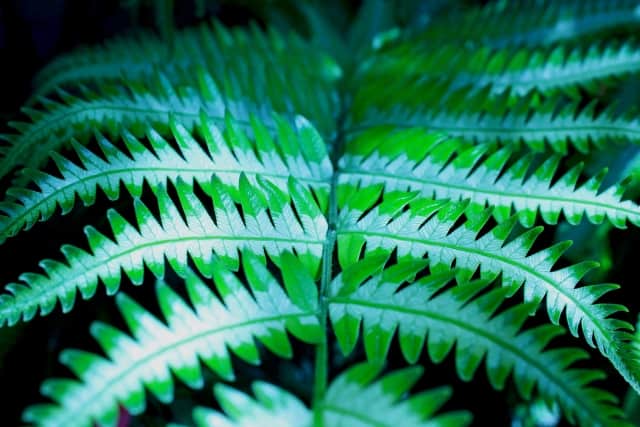 Silver brake fern
Pteris argyraea
Evergreen
Prefers partial shade
Height: up to 0.5 m
Soil: acid or neutral. Moist, well-drained.
Despite their lack of flowers, therefore, ferns can bring beauty to the home or garden through color. It is just a different kind of beauty – one that is a little less showy and obvious. 
Prettiest foliage
Finally, the complexity and variety of the fern's foliage can bring its own type of beauty. From the sturdy dark green blades of Hart's tongue and Bird's Nest ferns, to the delicate lacy fronds of carrot ferns, the wide variety in the pattern of fronds across different species can itself be an arresting sight. 
Maidenhair ferns are famed for the delicate beauty of their foliage. They are commonly chosen as houseplants, because of the cascade of small fronds that gives a delightful, intricate pattern. The rachis (midrib) is often black, or dark brown, providing another pleasing contrast to the light green fronds. Some varieties of maidenhair also have pink or red coloration in their new foliage, similar to the patterning of autumn and sunset ferns.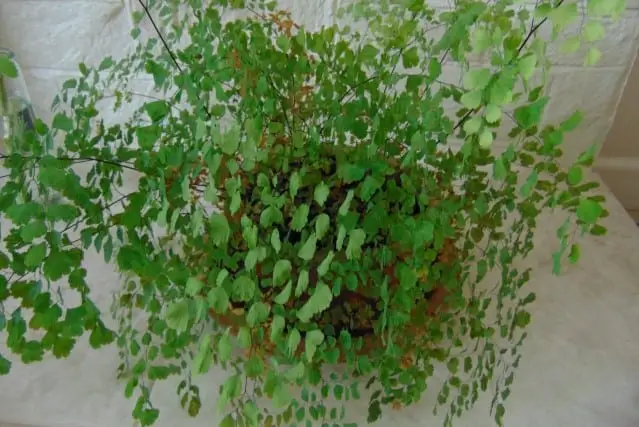 Maidenhair fern
Adiantum raddianum
Evergreen
Partial shade
Height: up to 0.5 m
Soil: neutral or alkaline. Moist, well-drained.
As with Japanese painted ferns, the appeal of maidenhair ferns has led to the development of many notable varieties and cultivars, selectively bred to enhance the natural grace of the delicate fronds. These can be strikingly different in character – from the upright feather-shaped American maidenhair, to the shower of fan-shaped leaflets of the Delta maidenhair. Indeed, there are more than 250 known species in the Adiantum genus, meaning a variety can be found to suit almost any situation. 
Other species are also prized for the beauty of their foliage. The Rabbit's foot fern has lacy, intricate fronds which form a beautiful bed of hazy green. They also have curious hairy rhizomes that can dangle from the rim of the pot, giving the fern it's common name.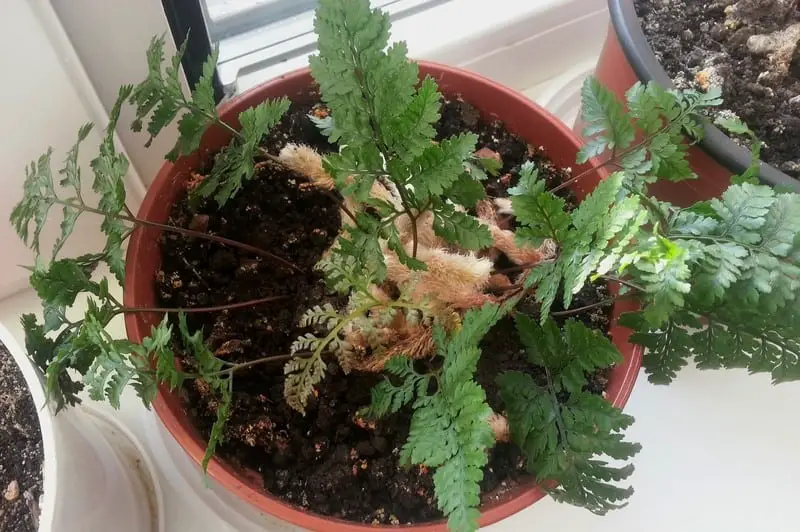 Rabbit's foot fern
Davallia solida (var. fejeensis)
Evergreen
Partial shade
Height: up to 1 m
Soil: acid or neutral. Moist, well-drained.
Finally, the carrot or claw ferns are another species known for the beauty of their foliage. A mist of fine, soft fronds that resemble the leaves of carrots decorate the wiry black stems of this variety.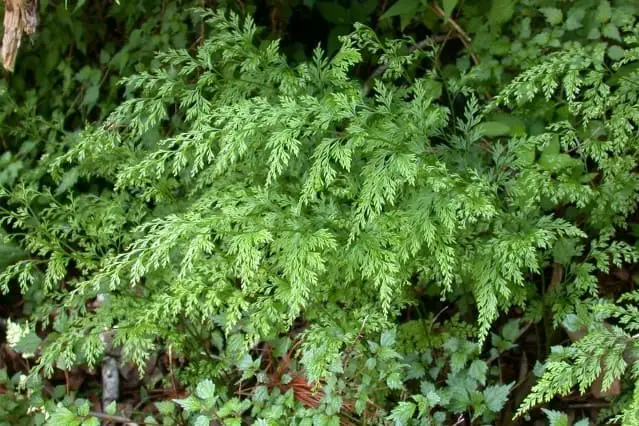 Carrot fern
Onychium japonicum
Deciduous
Prefers partial shade
Height: up to 0.5 m
Soil: acid, neutral or alkaline. Moist, well-drained.
Image Credit: Keisotyo
---
Aficionados have long appreciated the graceful, subtle beauty of ferns. Whether planted strategically to complement existing flowers, or admired in their own right for the color, shape or patterning of their fronds, ferns can provide spectacle and style to decorate the garden or home.