The space underneath trees can be a tricky spot to plant up. The heavy shade and thirsty roots of the trees can result in barren conditions for most flowers – and sometimes, even grass – but fortunately, many ferns can thrive in this environment.
The varieties that grow best under trees are the Dryopteris, Polystichium and Polypodium species, with some good examples being Male fern, Autumn fern, Soft shield fern and common polypody. The perfect choice will depend on whether the overhead trees are evergreen or deciduous, the depth of shade they create, and how much space you want to fill with the ferns.
The ground underneath conifers is often the most challenging environment to plant, as the dense evergreen canopy and low growing branches mean a dark, dry and needle-strewn patch of soil. With deciduous trees, growing conditions are usually better, due to the reduced shade during autumn to spring periods, and a more forgiving leaf mulch that traps, rather than blocks, moisture.
Choosing the best fern depends on your goals, but here are some of the more common scenarios.
Ferns for dense tree cover
Where conditions are dry and shaded, it's best to opt for varieties that are tough and can survive on thin soil. For this, the Polypodium species are a good option.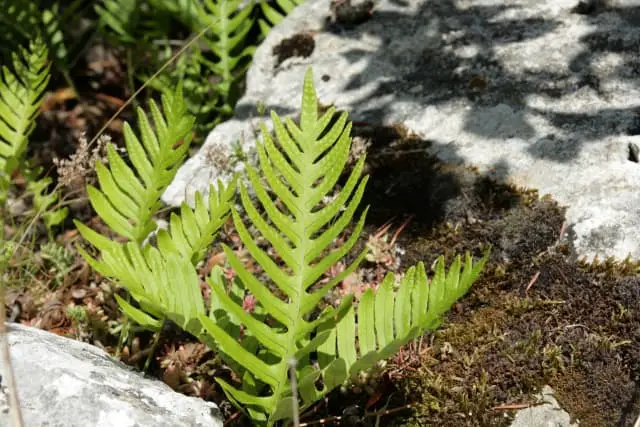 Common polypody
Polypodium vulgare
Evergreen
Partial shade or full sun
Height: up to 0.5 m
Soil: Neutral or alkaline. Moist, well-drained.
The common polypody can grow in a range of environments, and survives periods of drought and limited sun. It can grow as an epiphyte and cope with minimal soil.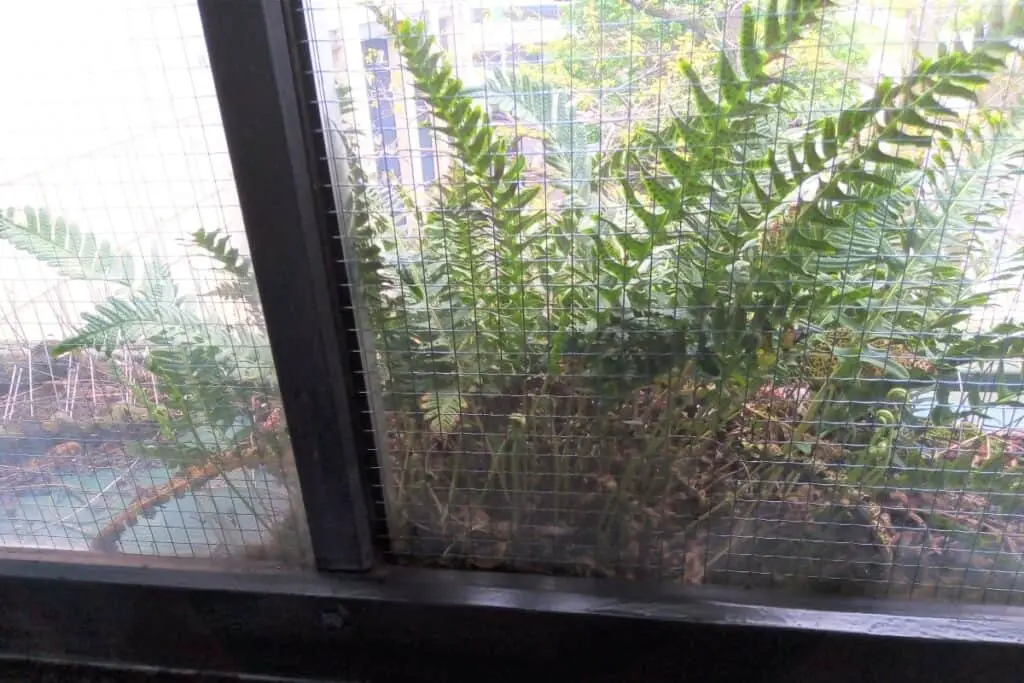 Southern polypody (Polypodium australe) is a related choice, and it comes in a wide range of attractive varieties, mostly from the cultivar 'Cambrium'. There are at least seven options available, all of which have their own charm (and a surprising range of shapes and sizes). These specimens will likely do better under deciduous trees.
Another option for dense canopies are shade-loving varieties such as the Hart's tongue fern and Holly fern. Both will thrive in gloomy conditions, but do prefer humid air and predictable moisture over dry soil.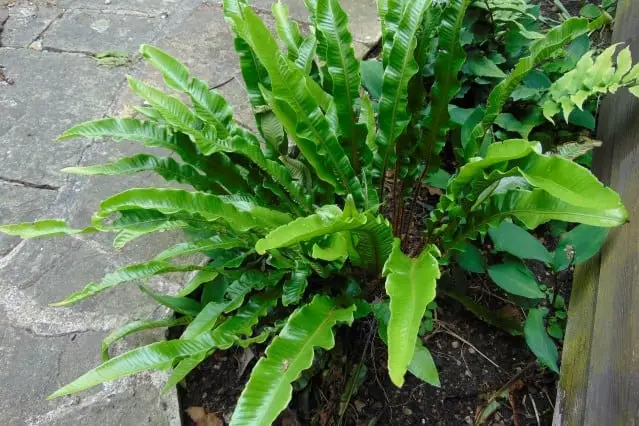 Hart's tongue fern
Asplenium scolopendrium
Evergreen
Prefers partial or full shade
Height: up to 0.5 m
Soil: alkaline or neutral. Moist, well drained.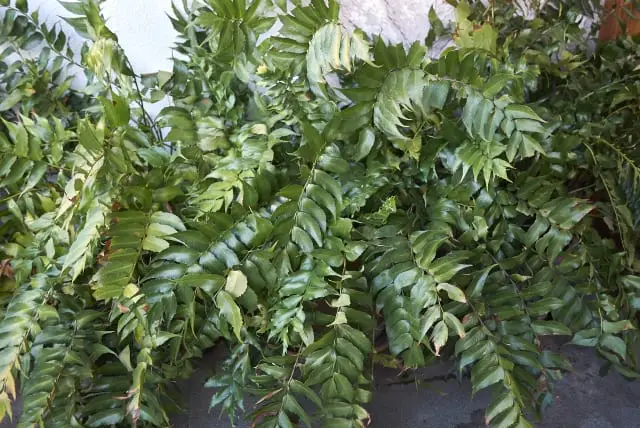 Holly fern
Cyrtomium falcatum
Evergreen or semi-evergreen
Full or partial shade
Height: up to 1 m
Soil: acid, neutral or alkaline. Moist, well-drained.
If tree foliage is very thick, it can be best to plant the ferns at the fringes of the overhang to provide more partial shade. Really dense trees like yew or beech, which can be pruned into thickets and hedges, may have too demanding conditions even for ferns that can manage dry shade. Here the only option would be to raise the height of the "skirt" of the foliage to allow some light to get in.
That said, I have found Hart's tongue fern growing in the stone wall behind a hugely overgrown, overhanging fig bush. No one could admire its beauty because of the dense curtain of foliage, but the fern was hanging on regardless!
Ferns for moderate tree cover
If the trees are less dense and cast only dappled shade, there are many more options available. If your goal is to fill a larger area, some of the classic Dryopteris ferns are the perfect choice.
Male fern is an excellent all-rounder than can survive in a range of conditions. It's tough, easy to establish, copes with short periods of drought, and grows to form an impressive shuttlecock of fronds that can reach four to five feet in height and spread.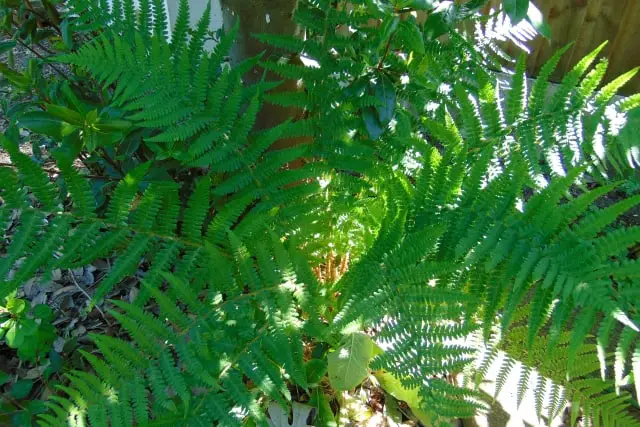 Male fern
Dryopteris filix-mas
Deciduous
Prefers partial or full shade
Height: up to 1.5 m
Soil: acid, neutral or alkaline. Moist, poor drainage tolerated.
Similarly, Southern Wood fern – as the names suggests – is a variety ideally adapted to the conditions found beneath trees. It will grow to a similar size and shape as Male fern, but can be semi-evergreen in mild climates.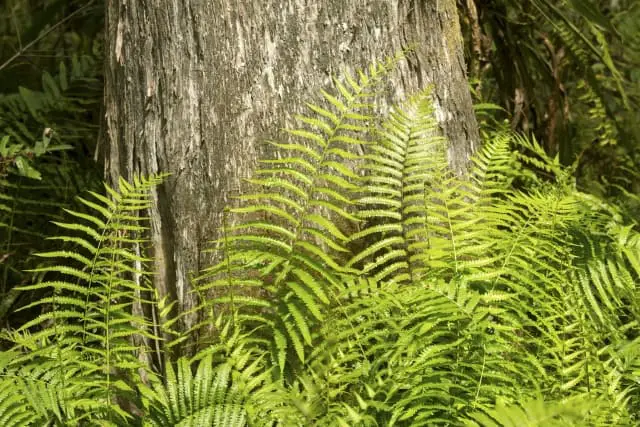 Southern wood fern
Dryopteris ludoviciana
Semi-evergreen
Prefers full or partial shade
Height: up to 1.5 m
Soil: acid, neutral or alkaline. Moist, tolerates poor drainage.
For a bit of variation in color scheme, another reliable option is the Autumn fern, which has beautiful red-bronze fronds when they first emerge, which turn to green as the year progresses. In my experience the Autumn fern loses its color more quickly in sunny spots, and so planting under trees could be a way of enjoying the display for longer.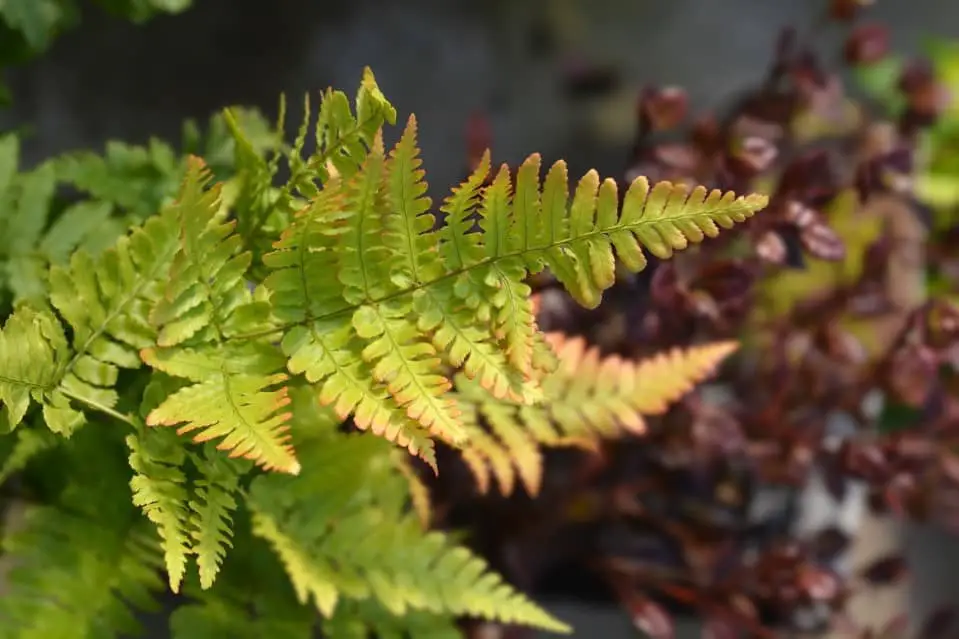 Autumn fern
Dryopteris erythrosora
Semi-evergreen
Full or partial shade, and full sun
Height: up to 1 m
Soil: tolerant of most pH and drainage conditions.
Moving on from the Dryopteris species, there are many other ferns that enjoy the partial shade beneath deciduous trees. Soft Shield fern is another excellent choice for a vibrant, reliable shuttlecock crown, and it tends to grow to more modest height than Male or Southern wood ferns.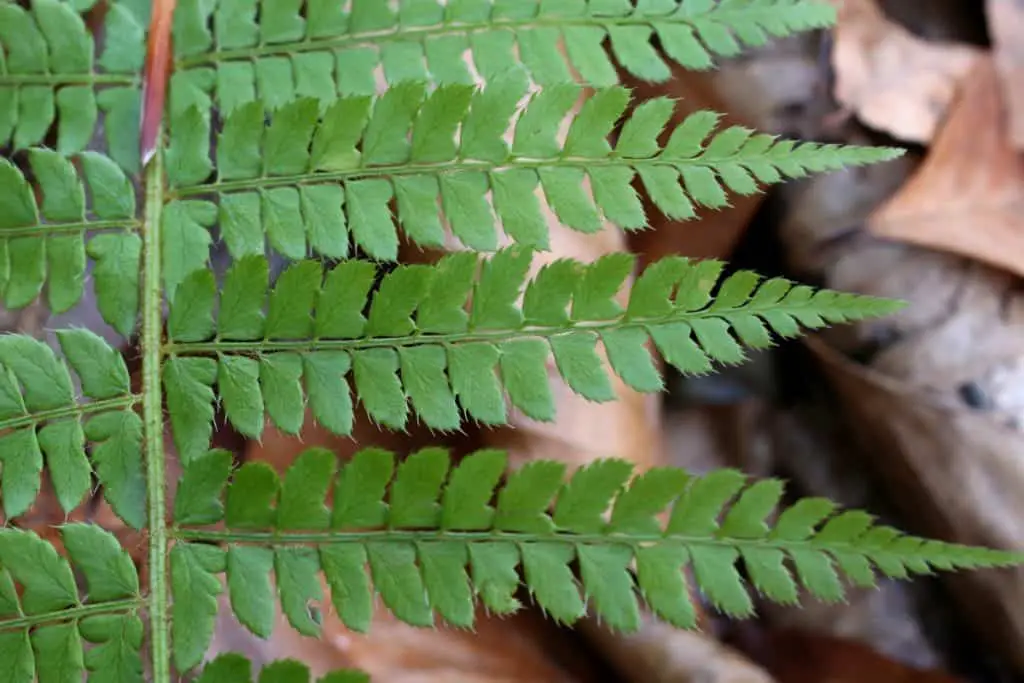 Soft Shield fern
Polystichum setiferum
Evergreen
Full or partial shade
Height: 0.5 – 1 m
Soil: Acid, neutral or alkaline. Moist, well-drained.
Polystichium ferns grow naturally in woodland and are a workhorse of the garden – always reliable, evergreen, and with a wide range of cultivars available with a diversity of shapes and sizes. The related tassel fern is another good option along the same lines.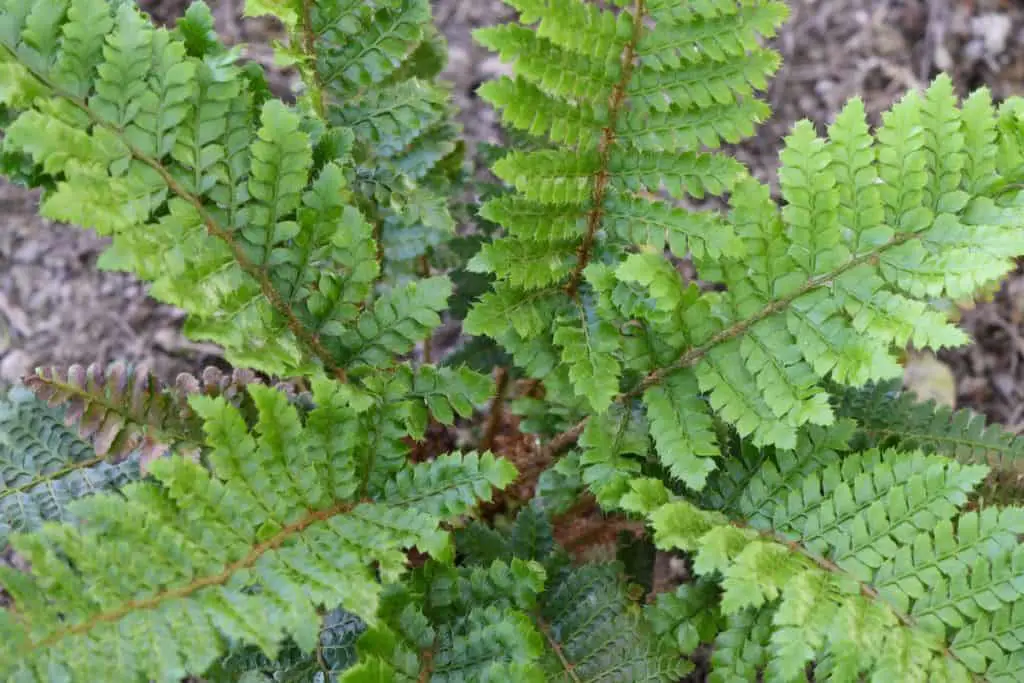 Tassel fern
Polystichum polyblepharum
Evergreen
Partial or full shade
Height: up to 1 m
Soil: acid, neutral or alkaline. Moist, well-drained.
Another classic shuttlecock fern is the Lady Fern. More dainty and delicate than the others, the Lady fern thrives in the partial shade under trees and can handle variation in wet and dry conditions.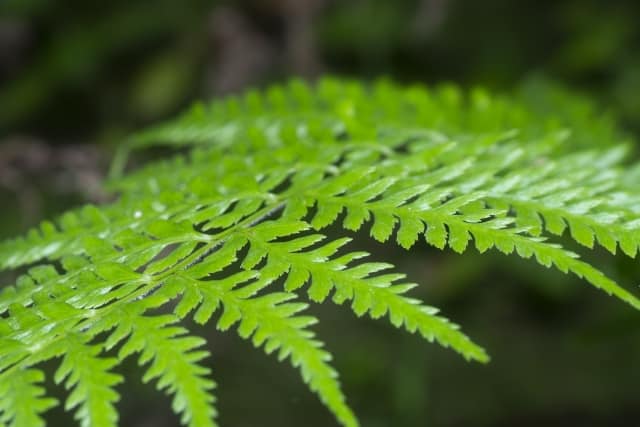 Lady fern
Athyrium filix-femina
Deciduous
Prefers partial or full shade
Height: up to 1 m
Soil: acid or neutral. Moist, poor drainage tolerated.
Finally, if you do not want to fill the space with the traditional crowning ferns, there are some options for lower-growing ferns that can provide ground cover. Good options would be some of the varieties of Maidenhair fern, Hard fern, and Alpine water fern.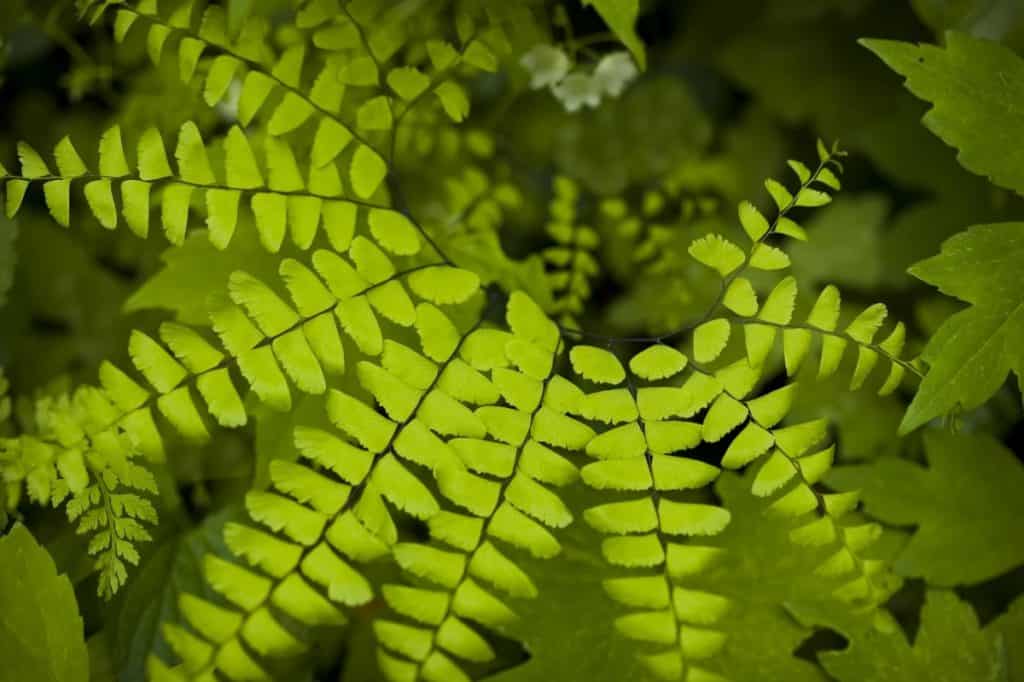 Northern maidenhair fern
Adiantum pedatum
Deciduous
Partial or full shade
Height: up to 0.5 m
Soil: acid, neutral or alkaline. Moist, well-drained.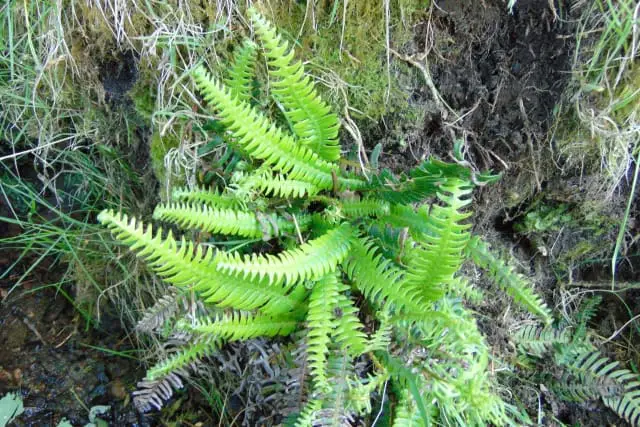 Hard fern
Blechnum spicant
Evergreen
Prefers partial or full shade
Height: up to 0.5 m
Soil: acid or neutral. Moist, poor-drainage tolerated.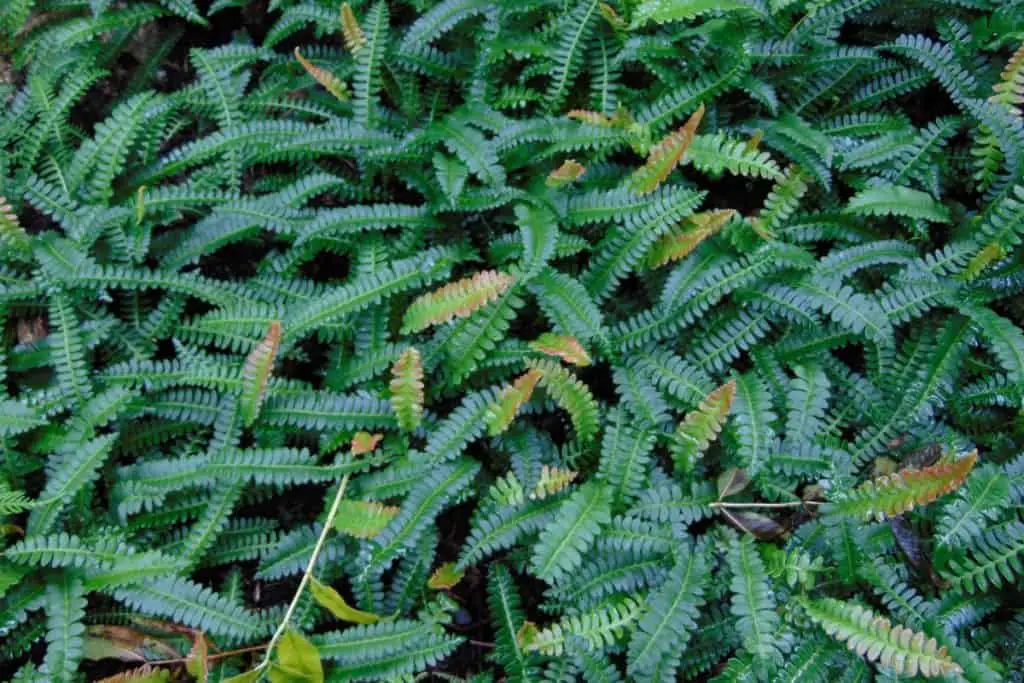 Alpine water fern
Blechnum penna-marina
Evergreen
Shade, partial or full sun
Height: up to 0.2 m
Soil: acid or neutral. Moist, well-drained. Drought tolerant.
Preparing the planting area under trees
To give your ferns the best chance of success, it is important to prepare the planting area well, while also taking care not to harm the trees.
To improve light levels and give space for the emerging fronds of taller species, it can be a good idea to prune back the lower branches of the tree. This is especially true for more bushy foliage which can become too low-growing and dense to allow even ferns to survive.
Each fern should be planted in its own hole, and it is worth adding a good amount of organic material (ideally compost) to help get them established. It is important that you try to avoid disturbing the superficial roots of the tree as little as possible when preparing the area, to limit disruption to the tree – you are, after all, hoping to complement the planting, not damage it!
On that topic, it is also best to avoid creating a raised bed or planter beneath the tree. While it would undoubtedly help the ferns to get well established, there is a risk that it would suffocate the fine surface roots of the tree, which are an important source of oxygen. This is a particular threat to ornamental trees like cherries and damsons that spread by suckers, and have more superficial roots (which can also compete with the ferns for water and nutrients).
---
Ferns are perfectly adapted for growing beneath the leaf cover of trees, and there is a wide range of options that can bring life and vibrancy to a part of a yard that is otherwise hard to plant up. As well as providing the ideal solution to this problem, the combination of trees and ferns provides the perfect opportunity to showcase the natural beauty of the fern species.