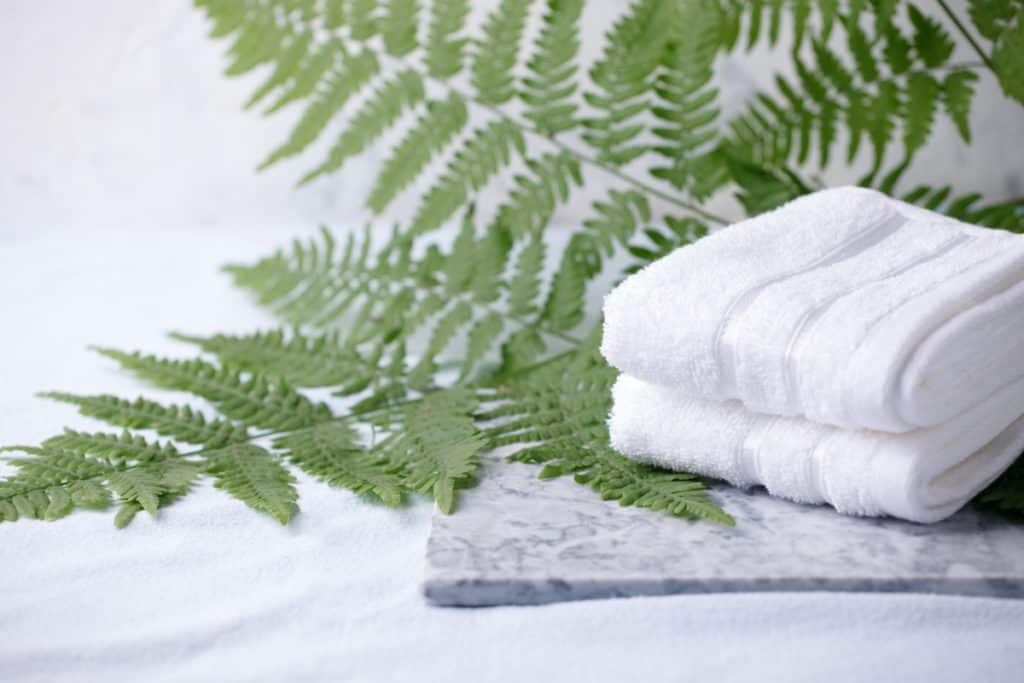 Are you looking to decorate your bathroom with some greenery? Are you wanting to include some ferns in your home design scheme, but looking for the best location? Bathrooms are the perfect place for ferns in the house, and this article can help you find some ideas and resources on where to start in choosing the best varieties.
The best ferns for the bathroom include Kangaroo Paw, Silver Brake, Maidenhair fern, Button fern, Bird's Nest, and Boston Fern. All of these ferns have a different look to them and can change the feel of the bathroom, but are all types of ferns that will thrive in the warm, humid environment.
That natural humidity of bathrooms suits many of the tropical fern varieties, so if you have a favorite it is well worth trying, but to learn more about our top picks, keep reading.
1. Kangaroo Paw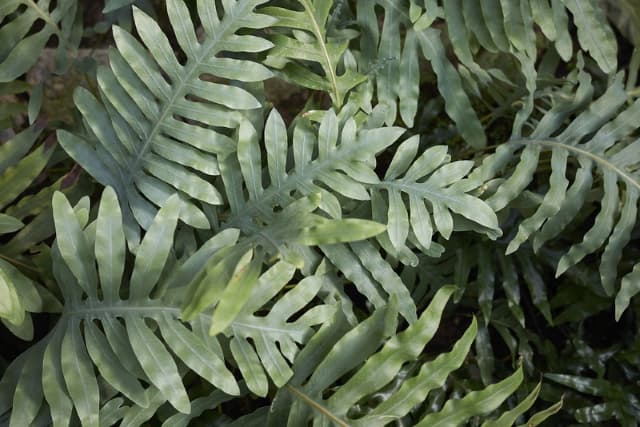 Kangaroo paw fern
Microsorum diversifolium
Evergreen
Prefers partial shade
Height: up to 0.5 m
Soil: acid or neutral. Moist, well-drained.
The Kangaroo Paw fern is a popular choice for a house plant, and one that will bring an authentic rainforest look and atmosphere to your bathroom. It thrives in the humidity of the bathroom and doesn't need much sunlight. One of the reasons the Kangaroo Paw fern is so popular and desirable as a houseplant is because of its long, wide-spreading leaves that grow down the side of the pot, giving it a cascading effect that makes for a beautiful addition to your bathroom decor.
Another benefit of the Kangaroo Paw fern is that they tend to grow to about 3 to 4 feet tall when potted. So, they are the perfect size to place on a shelf in the bathroom without being too dominant, and still give a nice, natural aesthetic to the bathroom.
2. Silver Brake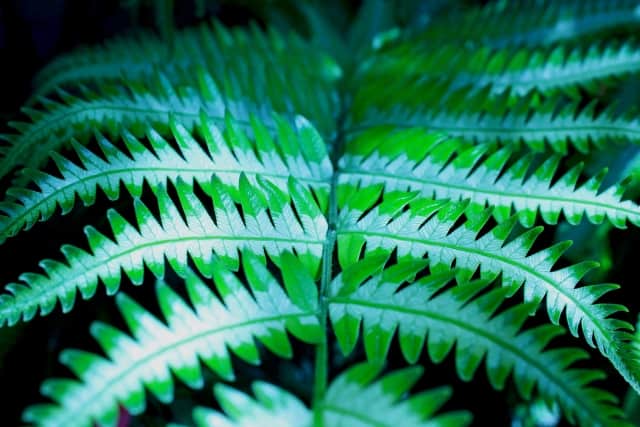 Silver brake fern
Pteris argyraea
Evergreen
Prefers partial shade
Height: up to 0.5 m
Soil: acid or neutral. Moist, well-drained.
If you are looking for an eye-catching, variegated variety that has natural beauty to its foliage, a Silver Brake fern is a great option. It is a visually show-stopping plant with long leaves that are detailed with silver stripes on the top of each frond.
Similar to the Kangaroo Paw fern, it doesn't grow too big, typically only reaching around 2 feet. If you are wanting a more refined, glamorous look for your bathroom, this glitzy fern would be a great addition and finishing touch to your decor.
The caveat with putting a Silver Brake fern in your bathroom is that you need to make sure that it has access to a window. While it doesn't need direct sunlight to thrive, it still needs more sunlight than other varieties and will struggle in deep shade, even if otherwise cared for well.
3. Maidenhair Fern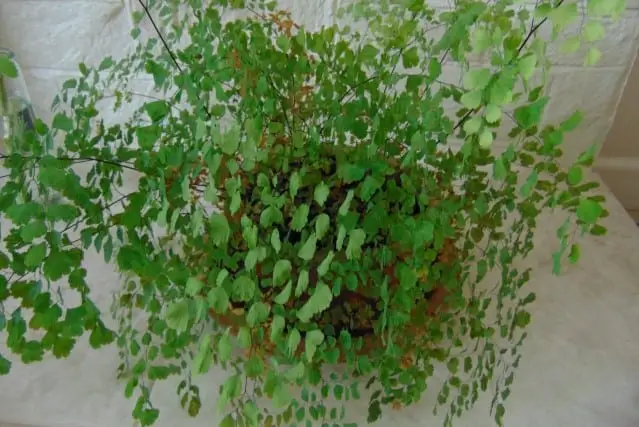 Maidenhair fern
Adiantum raddianum
Evergreen
Partial shade
Height: up to 0.5 m
Soil: neutral or alkaline. Moist, well-drained.
The maidenhair is a classic – and classy – fern that would decorate your bathroom with cascading, beautiful foliage. This fern has delicate, confetti-like pinnae that can add a soft touch to any room, especially a bathroom. Because these ferns are so fragile with their thin, almost transparent leaves, it is best for them to be in a humid environment as much as possible. This makes the bathroom, with the humidity of hot showers and baths, the ideal location. Some people even add a maidenhair fern to the shower enclosure itself, to maximize the impact.
While a maidenhair will thrive in the humidity of a bathroom it will still need consistent and regular watering. If you put your maidenhair fern in your shower or next to it, you can always give it a quick soak before the water has heated up.
4. Lemon button Fern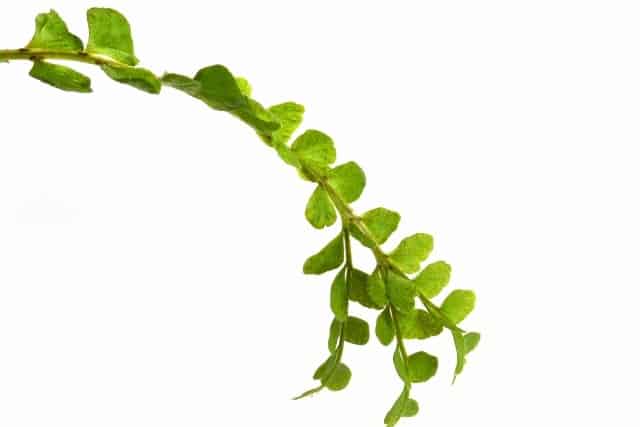 Lemon button fern
Nephrolepis cordifolia (duffii)
Evergreen
Partial shade
Height: up to 0.5 m
Soil: acid or neutral. Moist, well-drained.
Lemon button ferns are a common houseplant, but what makes them unique and intriguing is their short, rounded leaves – which many people wouldn't usually associate with ferns.
The fern gets its name from the faint lemony smell of the newly emerging fiddleheads (especially when bruised or damaged), and so this fern can add both style and scent to the bathroom.
Lemon button ferns are easier to grow than other varieties, being fairly tolerant of different light levels and watering frequency. They can be vulnerable to some pests, but otherwise are a low maintenance choice. In the main rooms of a house, low humidity can cause problems with brown tips, so they are a perfect choice for a bathroom fern.
When mature, they have a pleasing bushy appearance, with a spray of round pinnae along firm dark stalks. They can also branch at the tips, adding more interest to an already attractive plant.
5. Bird's Nest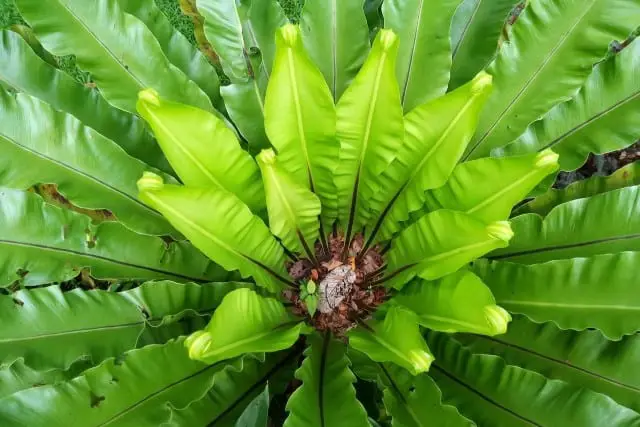 Bird's nest fern
Asplenium nidus
Evergreen
Partial or full shade
Height: up to 1 m
Soil: acid or neutral. Moist, well-drained.
If you want a fern in your bathroom but are worried about forgetting to feed or water it, the Bird's Nest fern is the choice for you. Bird's Nest ferns have wide, glossy fronds, making them seem more like a flowering plant that a classic fern. This variety is extremely low-maintenance, so it is easy to enjoy without worrying about keeping up with a demanding care routine.
The name of this fern comes from the wide-spread leaves, which create a nest-like space in the middle of the crown as all the fronds bend outwards. When grown outdoors this cup can collect dead leaves and other detritus, making them even more nest-like.
When maintained well, Bird's nest ferns can grow tall, reaching up to 6 or 7 feet in height, so they would be best placed on the floor of your bathroom once they overgrow pots suitable for shelves or windowsills. Similarly to the Maidenhair fern, these plants especially thrive in warm, humid environments.
6. Boston fern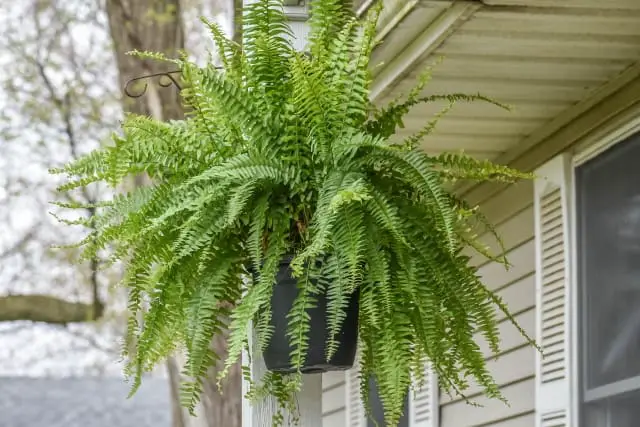 Boston fern
Nephrolepis exaltata
Evergreen
Partial shade
Height: up to 1 m
Soil: acid or neutral. Moist, well-drained.
Finally, we end with the Boston fern – perhaps the most popular variety of fern for indoors or summer hanging baskets.
The Boston fern is a cold-sensitive variety that grows particularly well in the warm humidity of the bathroom. Smaller specimens will provide a lovely splash of color to the bathroom, with a neat shuttlecock of bowing fronds that have the classic "sword" fern comb-like shape.
However, Boston ferns can also grow to an impressive size, with bushy mature plants reaching six feet and spreading widely. These ferns can therefore be ideal for making a design statement in a larger bathroom when placed in a floor pot, raised urn or even hanging from the ceiling.
---
While all ferns will grow well in a bathroom, the tropical varieties are particularly well suited to this environment. The range of ferns summarized here cover different shapes, sizes, colors and patterns, giving you a broad palette for interior design styles.